Coronavirus Update: Our retail shop is open with social distancing in place. All collections will be contacted and given a time that they can collect their order. Please also note, due to foam shortages our lead times are longer than usual.
Firm Calipore Outdoor Foam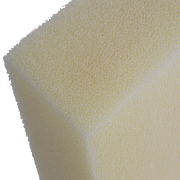 FC Hancox supplies Calipore outdoor foam in either firm or medium options. Our expert technicians will be happy to advise which is the more suitable for your project or application. As with all our foams, Calipore can be cut to your specification. Simply give us a call.
Please note: Outdoor foam doesn't comply with the indoor foam regulations and therefore should not be used or taken inside.
For an instant quote on Firm Calipore Outdoor Foam, please choose a foam shape...
This website uses cookies to provide you with the best user experience and site functionality, and provides us with enhanced site analytics. By continuing to view this site without changing your web browser settings, you agree to our use of cookies. To learn more, please view our privacy & cookies policy.